News
Community Event: Discord Bot "Vote" event
Hi everyone! We are excited to announce that we've partnered with DiscordLab's to throw an event! You will be able to add your bot to DiscordLab's amazing bot listing service, where your bot can gain popularity, while at the same time playing to win prizes for PloxHost services.
Visit PloxHost
Details
If you have a bot on DiscordLab's your goal is to have many users vote for your bot on DiscordLab's. Plus you get a multiplier if you host your bot with us.
If you don't have your bot hosted with us you check out our Discord Bot Hosting prices so you get can that multiplier!
PloxHost customers gain a 2x multiplier for each vote. This means that every time somebody votes for your bot on the DiscordLab's platform, your vote will count as two! See instructions below on how to participate.
⚠️
You do not need to be a client of PloxHost in order to participate! Your bot must be on DiscordLab's however. Your vote will not count as double.
Have a question? Feel free to contact us via PloxHost or DiscordLabs.
Prizes?
Yes there will be! The top 3 bots that has the most votes will be given a lifetime of our top tier Discord bot hosting.
Users who place 4th and 5th place will receive $10 credit on their account to use on any of our products.
Just for participating as well, every member will receive a 10% coupon to use on PloxHost Discord Bot Hosting services!
How to enter?
Before continuing, you must ensure that your bot meets all requirements and is posted at DiscordLabs. You can view all that here. If you have any questions regarding adding your bot to DiscordLab's, please reach out to them! They are more than happy to help you get rolling!
Join DiscordLabs Discord server. This enables them to assist you if you have any issues.
Go to their bot submission page.
Enter your client ID. You can find that in Discord's dev portal.
Confirm your bot
Submit your bot info
⚠️
If you are not wanting to use PloxHost in this event. You do not need to complete the step in order to participate. This is only for PloxHost users. Ignore the steps below if this does NOT apply to you.
In order to join the event, you must enter your PloxHost service ID on DiscordLab's control panel.
Under the "Integration" tab on the control panel of DiscordLab's, please enter your server ID.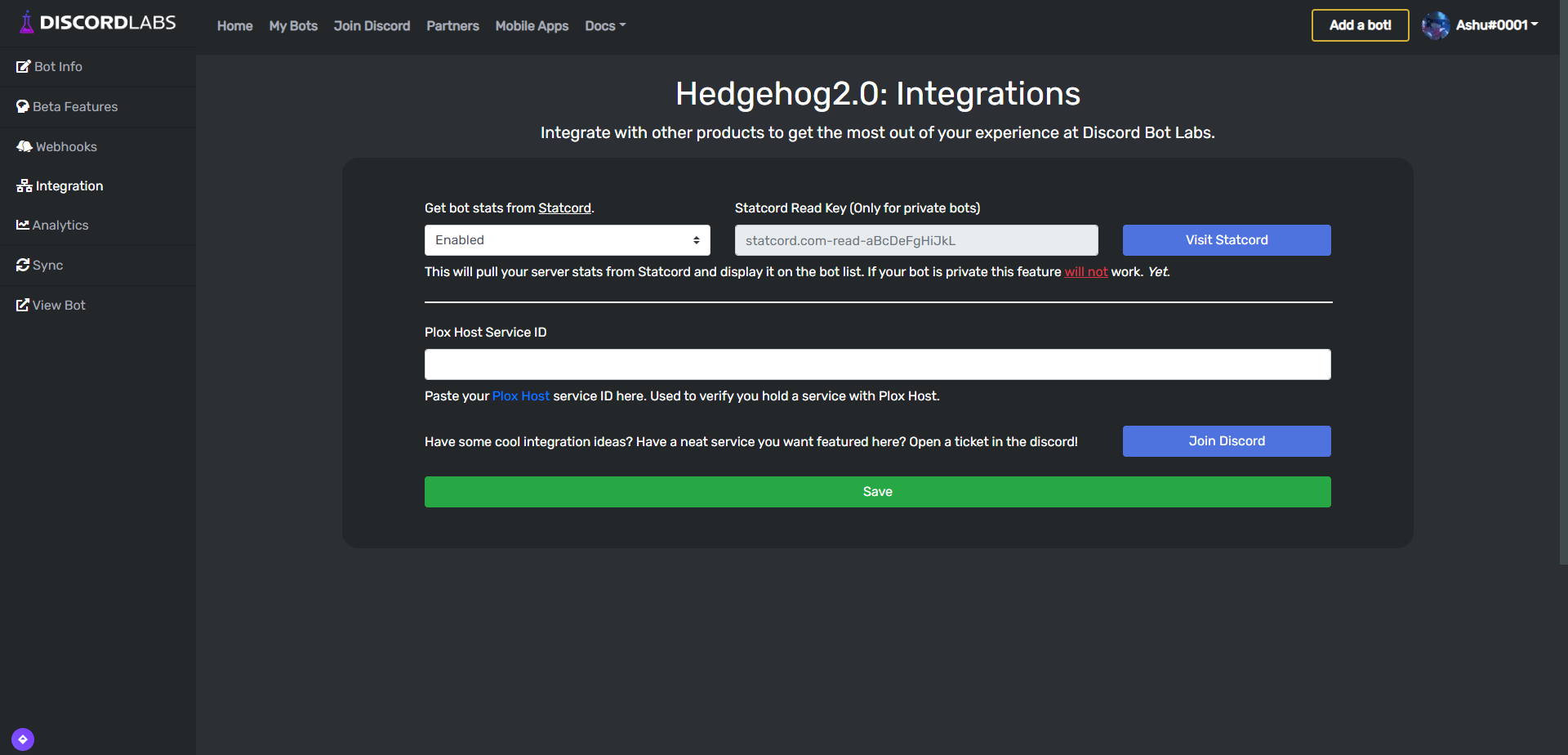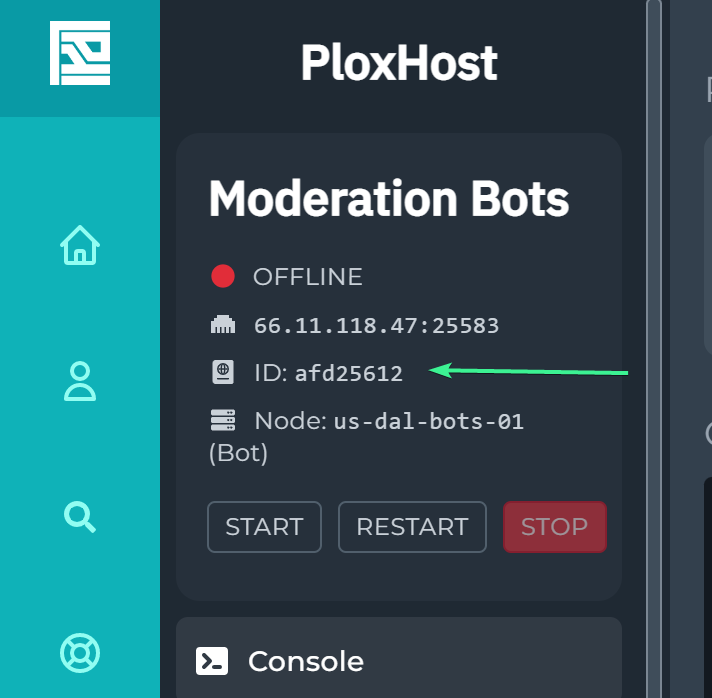 Paste this server ID into the box and click save!
How to get Bot Votes
Bot Votes is a feature of DiscordLab's platform. Anybody who uses your bot, or normal users can vote on your discord bot.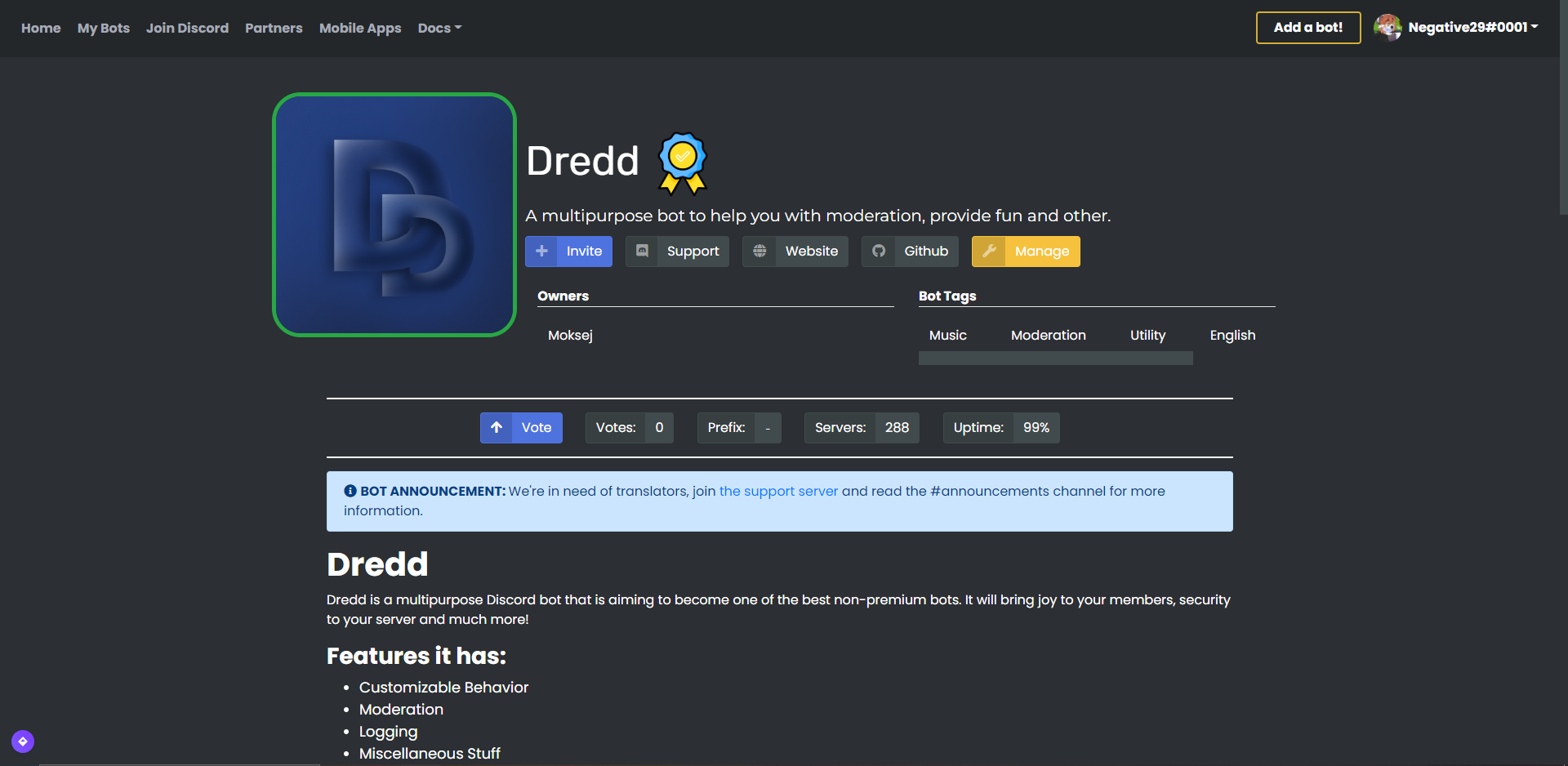 From here, users will be able to click "Vote" every 12 hours. This not only gains you points on our event, it helps boost Discord Bots to the front of DiscordLab's homepage.
You can vote 1 times within every 12 hours.
Why you should join?
Prizes! You also gain the opportunity to grow your bot on a new platform!
Event ends June 30th at 12:00 AM EST.
---
Best of luck to all!
If you have questions or concerns feel free to submit a ticket and we will be happy to assist you!
Terms and Conditions apply, please see https://plox.host/terms-of-service/ for more info.