News
Introducing our new Website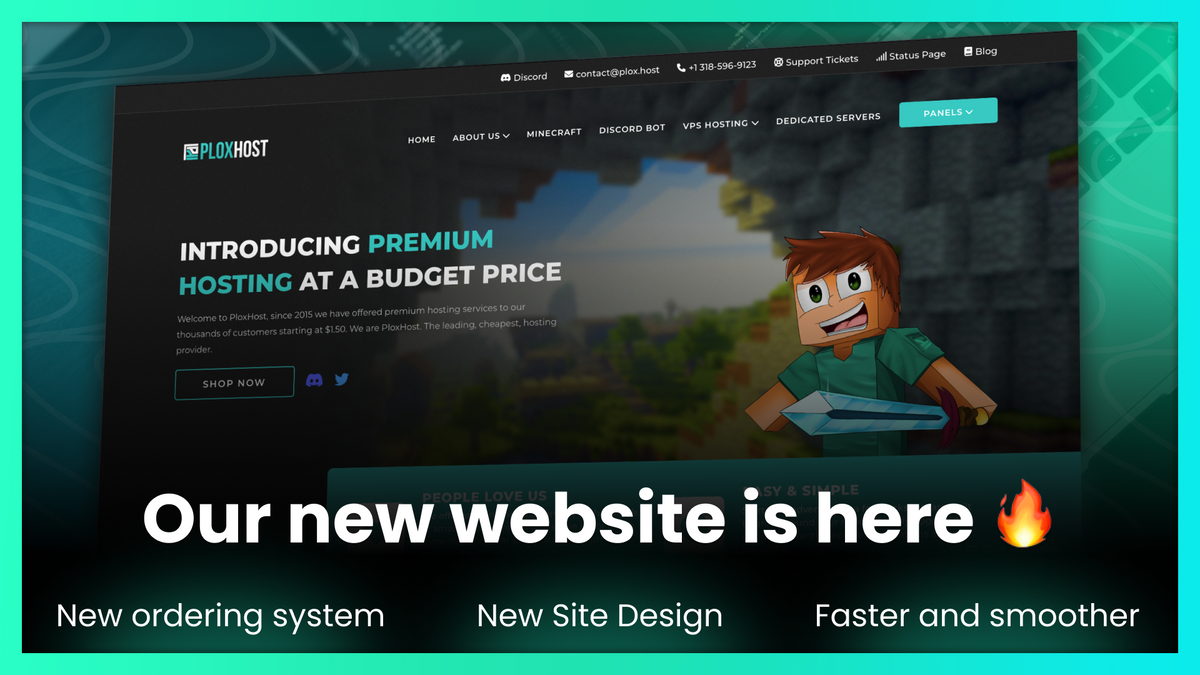 Today we are saying farewell to our old site design, the past 5 years we've had the same design and we felt It's time that we gave it a massive facelift!
We've been hard at work changing our design and making improvements to make things easier in the problem areas on our old site design. Down below we explain the changes and improvements we've made and we are excited to hear from you!
We are happy to announce our brand new website. It is now live for you to view at https://plox.host/.
The Goodies
We have spent countless hours debating over design details that now look irrelevant. At the end of the day, we have created an amazing UI experience for all of our customers to use.
The backend of our website is built using Vue & NuxtJS. Backend API served using Laravel. The site is using a Single Page Application, allowing for a seamless integration between all pages. No refreshes, and minimal loading.
Just take a moment and glance at perfection…
Big Thanks
We would like to take a moment to thank the developers who have worked on this project.
Donald G. - Backend
Aries C. - Backend
Ethan C - Frontend
& the few graphics designers who worked to create the beautiful art seen on the site.
New Website Features
We have added many new features alongside the design of the website.
About-Us Pages
We have added more information about our services and the PloxHost experience. Find it by accessing the "About Us" dropdown menu.

Minecraft Ordering Process
We have simplified the process of ordering your new Minecraft Game server. Everything is located on a single page. All locations, plans, pricing, etc.

Search Support Portal & View Articles
We have added an easy way to contact support, a centralized view of everything. https://plox.host/support

New Ordering Process
You will not have to leave our site anymore to configure your new server. A new, easy to use ordering experience is available by selecting any plan on our website. Try it out!

Stock API
We have added a stock API to access all of our backend stored information. API documentation is coming soon.
& many more. Find every new feature on our site 😜
New Ordering System
We would like to review our new ordering system.
Once you have selected your server plan, you will be brought to the ordering system.
All configuration options will be listed. Server jars, operating systems, hostname selection, etc.

When you're done configuring your new server, you are met with an easy overview of what you're about to purchase
A list of all active promotional codes are available as well.

You need to try this out!
Help us Bug Test & Report Issues
This is a new website, we have tested it rigorously, however we are expecting issues.
Please use the following link to report any issues:
https://forms.gle/PXN6b6vR7KSymNQ3A
Conclusion
Thank you! As always, we would like to thank every individual who allowed us to create amazing experiences like this. We have more on the way so stay posted!

Cheers to the future.